Today, everyone is searching for applications or methods that can earn some free gift cards or free google play codes that can be availed across various platforms. This is where Google Play Store has played a great role. Android users already know how capable the Google Play Store is.
From the store, you can not only install games and other applications but can also grab some free credit codes and gift cards. By playing games, watching videos, listening to music on applications, you have an opportunity to earn free Google Play codes. Besides this, there are various other methods that can help you earn some extra credit. So if you want to know how to get free Google Play credit, then you are at the right place.
Given in the article are the top 20 ways which will help you earn free Google Play credit. So, to know about them, read the article carefully.
Google Play Store Credit – What is it?
Google Play Store credits are a form of currency that can be used in numerous ways. The beneficiary can use the credit in app purchase, pay for YouTube premium, pay for premium apps, purchase movies, books, or TV shows. Although you can purchase the credits, people look for ways to get free Google Play codes to enjoy the benefits.
The Google Play Store credit isn't exactly big money, but it helps purchase small applications or other entertainment sources. Thus, it helps save you from spending amount for the purchase.
Remember, free Google Play gift cards do not come with an expiry date, meaning you can use the codes anytime for your purchase. Thus, this clearly shows why people are searching online for how to get free Google Play credit?
Most Reliable Methods of Earning Free Google Play Credit
There are multiple methods that can help you to earn free Google Play credit codes. However, we hereby provide you top 20 ways that are reliable and proven to offer the desired results.
For Free Google Play credits
1. Swagbucks
It is a highly popular application on Google Play Store which pays the users to answer simple survey questions, play games, watch videos online and shop. Besides this, the users can also get paid for simply surfing the internet.
Once you get the membership on the application, they will send you various simple tasks you need to complete to make extra money. With the daily task, you will earn Swagbucks points which can be redeemed as popular Google Play gift cards. The application to date has paid about $500 million to the users. This thus makes it a reliable platform to earn some free credits.
2. Branded Surveys
The application is a market research panel that pays the users for providing their opinion about products and services of various brands in the country. By presenting your honest reviews and opinions about a product, you will earn points that will be redeemed for PayPal cash or for getting Google Play gift cards for free. Also, there is an option to choose Visa prepaid card for withdrawal.
3. Survey Junkie
It is one of the highly-rated survey sites globally. The platform is among the most reliable and reputable ways of earning free Google Play codes. When you join the application, you will get survey invites. By visiting the surveys and performing daily tasks, you can earn points that can be easily redeemed for free Google Play credits, gift cards, or PayPal cash.
4. InboxDollars
InboxDollars is a US-based marketing research panel that has received tremendous response. The application is popular for its reliability and assurance of payments. The users get paid on the application for completing online surveys, reading emails, playing online games, and watching video ads. When you registered on the application, you will get a free $5 Google Play credit as a welcome bonus.
Once you have obtained $30 earning on the application, you can redeem it in the form of gift cards or cash. Depending on the availability of gift cards, you can either invest in Google Play credits or cash out the points through PayPal.
5. Mistplay
It is one of the best applications you will find for free Google Play codes and credits. The users can earn by playing daily games on the application. Mistplay currently has a 4.1 rating out of 5 and numerous positive reviews, which makes it a must-have application for easy earning.
With a simple sign up you will be asked to play games and refer the application to friends for earning credits. You can use the points earned here for Google Play, iTunes credits, PlayStation gift cards, and more
6. Ibotta
Ibotta is a super-advanced platform that allows users to earn free Google Play credit easily. Just register on the application before going out for your grocery shopping. Once done with the shopping, check out the products the application offers credits for buying. For instance, you can get a cashback for purchasing pasta from a specific brand.
Simply upload the receipt of your grocery shopping, and you will earn money on the app. You can redeem the earnings in the form of free Google Play credit codes and gift cards. It is one of the safest, quickest, and reliable ways of earning free credit.
To Earn Free Google Play Codes
The applications or reward programs mentioned here help the users earn free Google Play codes.
1. PrizeRebel
It is one of the quickest ways of acquiring free Google Play credit codes. On PrizeRebel, the users have to participate in daily surveys. It currently has about 10 million active members who have been paid more than $1 million. This gives the assurance of the earnings one can make on the platform.
The points earned on the application can be redeemed for free gift cards or cash.
2. Luckastic
It is another highly popular gaming application that pays the active members in gift cards and cash. The application is free to join. You have to participate in scratch card games, sweepstakes, and more for earning daily points and coins.
3. Harris Poll Online
It is one of the oldest applications which has been paying the users for their honest opinions about the products they purchase in-store or online. You can easily earn points that can be redeemed on the application once you reach the starting reward point of $10. The payment options for the application include iTunes, Amazon gift cards, home depot, and other options.
4. Fetch Rewards
It is a free grocery application that pays the subscribers for uploading a receipt of their purchase. Once you register successfully, you will get numerous offers, discounts, and cashback. After your weekly shopping, you can upload the receipt here to earn points. The earnings can be used to get free Google Play gift cards.
5. Google Opinion Rewards
It is a Google-owned and managed application that is among the most reliable ways of earning free Google Play codes, credits, and gift cards. The app will send surveys once a week, which you have to take part in and provide feedback. This helps improve Google products and services. Currently, it is a highly popular application with over 1.8 million reviews. You can trust the app to get easy credits.
6. Tap Cash Rewards
It is an efficient yet simple operation application that helps the user earn free Google Play codes. To earn money from the application, the users need to install and register on the apps and game. You will earn credits that can be redeemed for various platforms like FreeCharge, Amazon, Skype, PayPal, Google Play Store, and others.
How to get Google Play Gift Cards?
Here's the best apps to earn gift cards.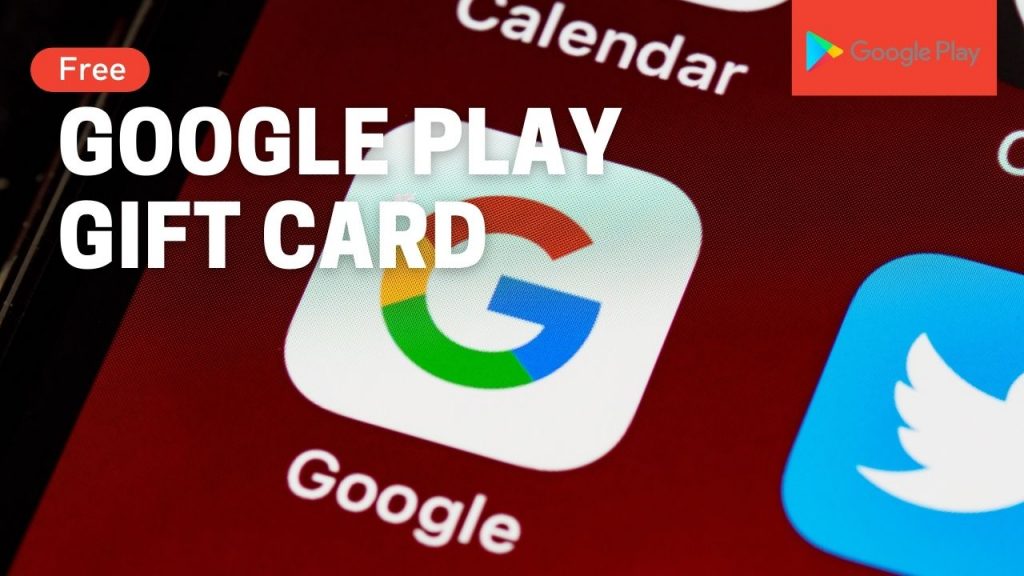 1. AppNana
AppNana is a highly popular application that offers the users great rewards and free credits for Google Play Store, PayPal, Amazon, iTunes, Xbox, etc. You can use the application to earn redeem gift cards for your usage. But remember to open the application and register there to start with your earnings.
2. JunoWallet
It is yet another application that offers great gift cards and rewards. On application, you can earn free Google Play credit by watching videos, playing games, making calls, completing surveys, and inviting your friends. The points you earn here can be used for getting eBay, Amazon, Xbox, iTunes, and other stores gift cards.
3. Cubic Reward
Cubic Reward provides the users free gift cards for installing and using trending apps and games on the Android device. Using the credits on the application, you can purchase a game or premium app on the Play Store. It is a highly secured application that offers smooth earning.
Besides this, you can use the credit points to get free credit for iTunes, Amazon, Starbucks, PayPal, Tango, and more.
4. Gift Card Granny
The application offers great gift cards. You can use the app to purchase and sell gift cards on this platform at a discounted rate. Also, you can earn a free Google Play gift card by referring the application to your friends and family.
5. InstaGC
The application pays its members for completing simple daily tasks like watching videos, answering surveys, and shopping online. The point on the application can be redeemed in the form of more than 300 gift cards, including free Google Play credits and others. It is a reliable and legitimate application that can earn great gift cards with simple daily work.
Free Google Play credit hacks
You can consider using the following applications to earn free Google Play credits.
1. Ipsos i-Say
Ipsos i-Say is operated by one of the most popular market research companies in the world. The company operates in more than 80 countries where they pay their users for answering simple surveys. The point you earn from this application can be used for purchasing gift cards for Google Play. Also, you can cash out the earnings once it has reached $15 using PayPal.
2. Toluna
Toluna is a great Google Play application for earning gift cards. Once you have successfully registered yourself, you will start earning points by completing surveys, participating in polls, and playing games online. It is a legitimate site that offers its users assurance of payments.
3. MobileXpression
MobileXpression is a highly popular application on Google Play Store. The app is free to use but offers the users some money when they install it on their Android smartphones. Once you have kept the application installed for seven days, you will get a free $5 Google Play credit.
For every additional week you have kept the application on your device; you will earn more credits and gift cards.
Google Play Credits – How to Redeem?
As long as you have a legitimate Google Play account, you can redeem your credit easily.
To begin with, open your Google Play account
Open Settings and look for Redeem option
Enter the code mentioned on the gift card
The credit balance will be updated in your account
How to Stay Safe from a Free Google Play Codes Scam?
Given the huge search rate for how to get free Google Play credit, there are now a number of scammers who are ready to fool the users. They will promise to help generate free Google Play credits but will infect the device to take away your details. Thus, you must be extra careful about the application or sites you use for getting free Google Play codes or credits. Generally, be careful with the sites which give you promises of making you rich. Also, avoid installing any software from untrusted platforms.
All the applications mentioned here in the list have thousands of reviews and downloads. They are all a legitimate way of earning free Google Play codes and credits.
Conclusion
It is not bad to find ways that can help you save money or earn some credits. If you have free time in your hand, then there are numerous applications on the Google Play store that will fit in your schedule and help you earn points and bonuses that can be redeemed as gift cards.
You can watch videos, play music, play mobile games, and perform online surveys to earn small credits without worrying about spending on the apps, games, and Google Plays music you want to enjoy. So, do not wait and try on the applications mentioned here to earn free Google Play codes and credits.